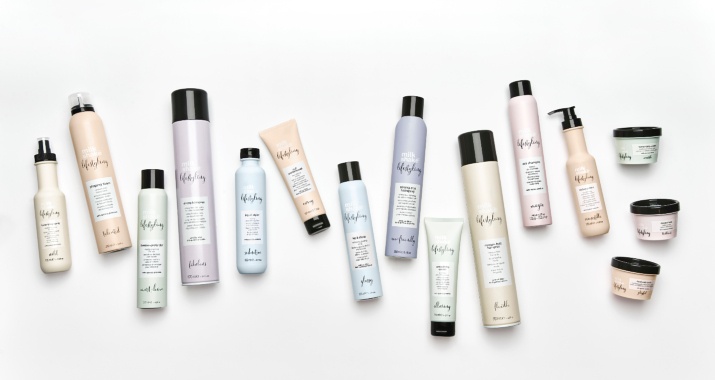 Olaplex is the original, unique and patented chemistry that multiplies bonds and cross-links broken bonds. Olaplex did not create a product category. Olaplex is the product category.
Olaplex gives colourists confidence, the insurance, and the ability to colour or lighten hair at any level, without the risk of breakage. This new and unique chemistry has 8 worldwide patents and has been tested thousands of times, putting samples of hair through extreme processes that would never be attempted in reality.
Olaplex can be used in your colour services or as a stand-alone treatment, with its single active ingredient repairing the hair from within. The result is stronger and healthier hair, plus colour lasts longer with more vibrancy.
From keratin treatments to perms, balayage to full bleaching, you will find that your client's hair can withstand more than you ever thought possible with this revolutionary product.
   Milk _ Shake
milk_shake® hair products are an amazing range of professional salon hair products inspired by nature. The philosophy of milk_shake® hair products is simple—use the power and beauty of nature to get amazing looking hair for all occasions.
milk_shake® hair products are made with an amazing mix of professional ingredients including milk protein that will be heavenly food for your hair.
milk_shake® offers a fantastic portfolio of products that includes a range of shampoos, conditioners, intensive hair treatments and hair styling products that will all become the perfect additions to your daily hair care routine.
   Affinage Professional
                                                               Colour is just the beginning…
International Hair Cosmetics is the innovative company behind the premier hair product range, Affinage Professional. An Australian success story, International Hair Cosmetics launched in 1988 and has become one of the leading hair colour companies supplying over 30 countries that include Australia, New Zealand,  mid continent (India), Asia and the Pacific Rim.
Originally known for its extensive knowledge of all aspects of the professional hair colour business, the company has extended its product range to include shampoos, conditioners, styling products and hair treatments that have become enthusiastically embraced by consumers and the hairdressing industry.
A research and development laboratory in Italy and Australia ensures the creation of exciting, world-leading hair care products that further strengthen International Hair Cosmetics/ Affinage Professional's reputation as the fastest growing Australian haircare company.
Face Atelier
Beauty is in the eye of the beholder and at FACE atelier, each woman is her own beauty icon. A woman can only look her best, and at FACE atelier, that's good enough. We don't believe in presenting an image of what we think you should look like. We do believe that being beautiful is all about being the best that you can be.
We're passionate about being an age and race neutral line and recognise that women come in all shapes, size and nationalities. Our mission is to provide sophisticated and versatile makeup that helps you look and feel your best.
Who is the FACE atelier woman? She's any woman, aged 19 to 90. Colour refers to her favourite shade of lipstick, not her skin tone. She wants to look and feel her best, and knows that makeup is one of the many tools women have to accomplish that goal. She starts each day by putting her best face forward because looking good is the best revenge against the trials and tribulations—large and small—women face every day.
FACE atelier founder Debbie Bondar, the mother of two grown daughters, is committed to helping women of all ages realise there is nothing wrong with themselves just as they are. She's aware women of all ages are bombarded daily with unrealistic images of how they should appear. She urges women to embrace their reality rather than trying to defy it. She's dedicated to helping women feel better about themselves… one brush stroke at a time.
Look good, feel good, be kind to yourself, and celebrate who you are. The FACE atelier woman is you!